custom printed
inexpensive.|eco-friendly.|versatile.
CUSTOM PAPER SOS GROCERY BAGS

Paper SOS grocery bags are a classic style option for many types of retail and food service uses. These versatile bags are inexpensive and eco-friendly, making them a great custom printed option for many business types.
Request A Quote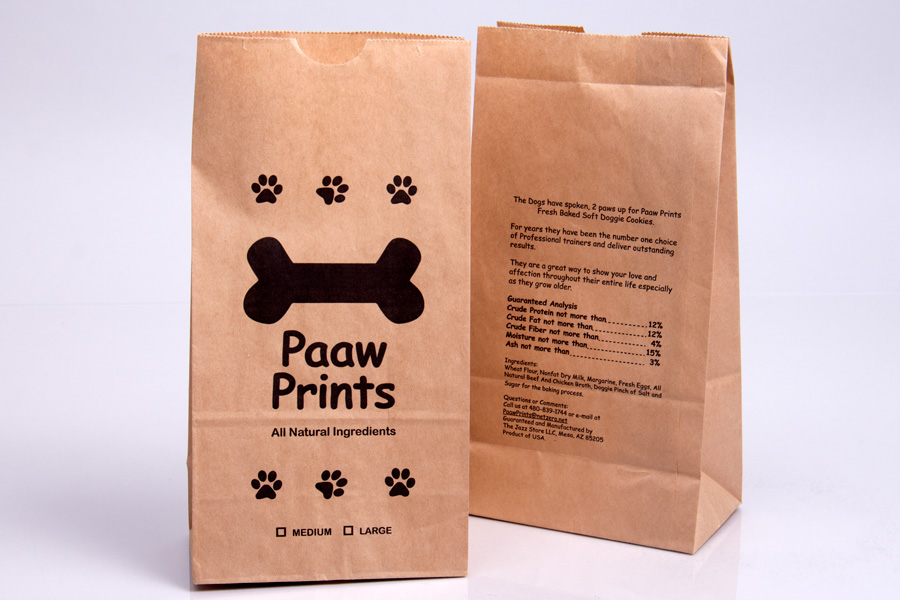 CUSTOM PRINTED PAPER SOS BAGS

Natural kraft paper SOS bags imprinted with black ink on 2 sides..

Close
View Other
Custom Packaging

Galleries
CUSTOM PRINTED PAPER SOS GROCERY BAGS
Whether you have a retail store, pharmacy, gourmet food business, or restaurant, SOS style paper bags are a great custom packaging option for branding your business. These inexpensive and eco-friendly paper bags are a versatile choice for packaging many different products.
SOS stands for "self-opening sack" and this packaging product was patented by Charles Stilwell back in 1883 and it is a landmark in US design history. With his side gusseted design structure, the bottoms of the paper bags were made flat so that they could stand alone when placed on a flat surface. These bags were the first advent of what later developed into handled paper shopping bags.
SOS style paper bags are commonly made with natural or white kraft recycled materials but can also be manufactured with custom colors. These bags can be printed on all four sides with one or multiple ink colors. Digital printing is also available for full-color graphics on certain bag styles.
Custom paper SOS bags are popular for fast casual and fast food restaurants as well as gourmet food companies and traditional retail stores. If needed, these bags can be coated in food-safe wax to prevent moisture and grease damage through the bags. These bags can also be made for direct food contact.
There are a variety of sizes available for many different products and businesses, and these paper bags can be customized with die-cut handles or top closures. SOS bags can also be designed with clear viewing windows for a sneak peek of the products inside.
Morgan Chaney can help you design paper SOS grocery bags for your specific uses. We also offer in-house design services to help you envision your end products. With Morgan Chaney, you can be sure that we will provide high-quality paper bags to your business and provide outstanding service throughout the process. Contact us today to get started on your custom printed paper SOS bags.