MORGAN CHANEY'S In-House Semi-Custom Packaging™
Semi-Custom Packaging? is when stock packaging products are custom printed after they have been manufactured.
This differs from fully customized packaging where product materials are custom printed and then later formed into the final product.
With semi-custom printing, you can choose a stock packaging item like a bag or box, and then custom print it with your logo or design.
You can choose your printing colors, foils, and designs much like you can with fully custom printing.

Request A Quote
Foil Hot Stamping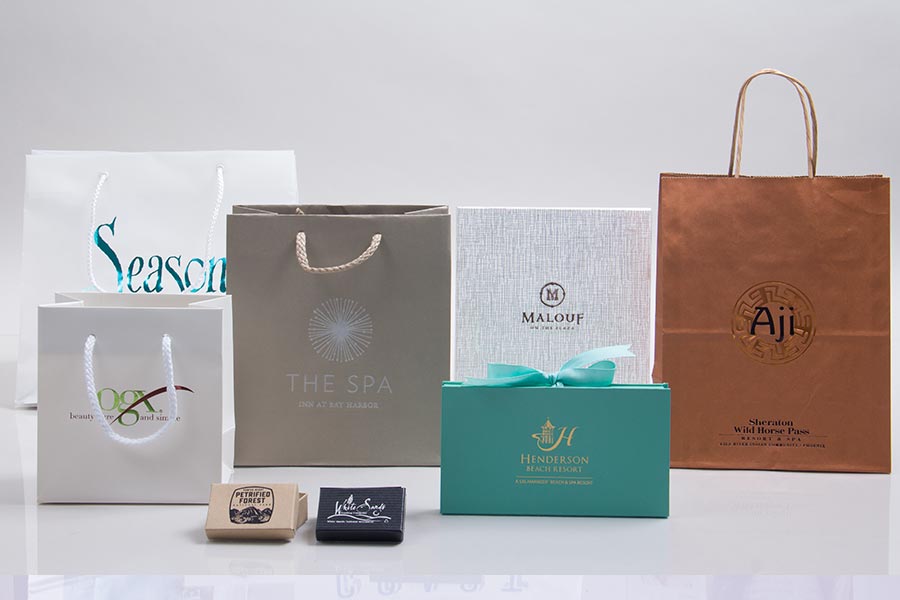 Hot-Stamped Semi-Custom Packaging™

Morgan Chaney's foil hot stamp packaging program provides businesses with affordable custom packaging that looks luxurious and unique.
Foil hot stamping is a process that utilizes a metal plate of a customer's logo or design to stamp foil onto a packaging product using heat and pressure. This process produces a high-quality custom look to your packaging items. At Morgan Chaney, we offer in-house semi-custom foil hot stamping for the convenience of our customers. With Morgan Chaney hot stamping, you can choose from a variety of foil colors and finishes to print onto many of our in-stock packaging items. These orders can be produced more quickly and in smaller quantities when printed here at Morgan Chaney. Some of the products we can hot stamp include paper shopping bags, paper eurototes, plastic eurototes, gift boxes, jewelry boxes, mailing boxes, and more.

There are some limitations to the types of products that can be printed on and the designs that can be hot stamped, contact us for more details on semi-custom foil hot stamp printing requirements and guidelines.
Ink Printing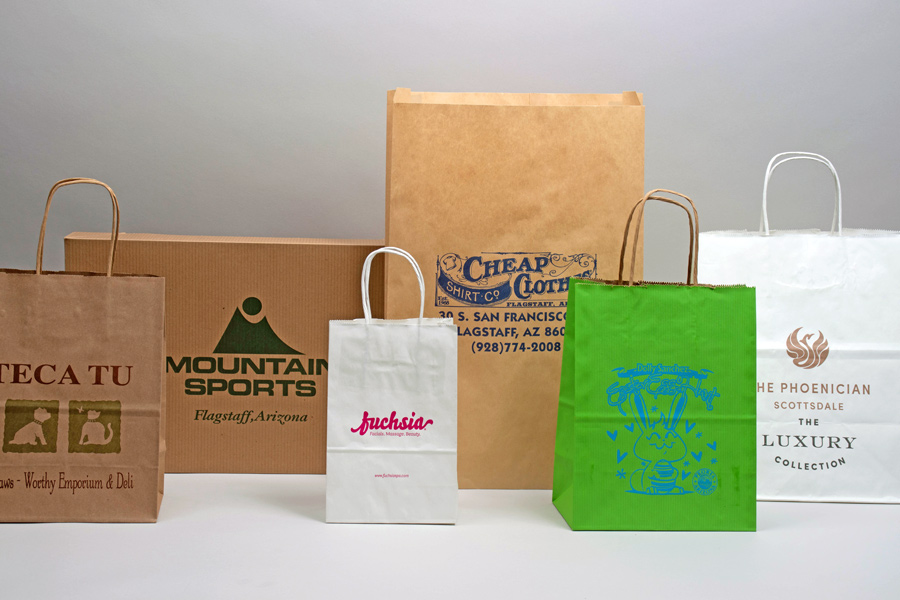 Ink Printed Semi-Custom Packaging™

Morgan Chaney's ink printing program allows you to custom print a variety of packaging items in smaller quantities and with faster lead times.
Morgan Chaney's in-house ink printing is done with a specialized flexographic printing press that uses flexible rubber plates with a raised design. These plates are mounted to a rotary cylinder which passes liquid inks from the plate onto packaging products one at a time. We only use water based inks and have many popular ink colors to choose from in-house. If you need a certain PMS color, we can order it for an upcharge. You can ink print on a wide variety of in-stock packaging items like paper shopping bags, kraft paper eurototes, paper boxes, and corrugated boxes.

We are very capable of multi-color logos, logos with screens and logos with tight print registration but we will need to review your particular artwork to discuss any possible suggestions to achieve the best results for your project. There are limitations regarding colors and print areas and designs with ink printing. Contact us for more details and specifications.
MORGAN CHANEY'S IN-HOUSE SEMI-CUSTOM PRINTING
When you need custom printed packaging, but don't have months of lead time or multi-thousand order quantities, Morgan Chaney's Semi-Custom Printing program is a great solution. We offer in-house custom printing completed at our Phoenix warehouse and shipped anywhere around the U.S. By utilizing our in-stock paper bags, plastic bags and gift boxes we can imprint your packaging affordably and fast because unlike others who outsource the printing, we do it ourselves. Semi-Custom Printing allows for smaller quantities because we stock the packaging at our warehouse and print each item one at a time by hand.
We offer post-printing on many of our in-stock packaging products such as paper bags, plastic bags, gift boxes, apparel boxes, gable boxes, and gift certificate folders. Our quality, attention to detail, and fast lead times makes us one of the best in the country. For those interested in environmentally friendly packaging we also have product options containing high contents of recycled materials.
SPECIAL NOTES:
There are some limitations with Semi-Custom Packaging because of the methods used to print. Because the products have already been made, we can only print on the center areas of the face and backs of bags. Printing into the gussets of bags, near the extreme edges or running the imprint off the edges or over the handle area of shopping bags is not possible with post-printing. Printing on boxes is limited to areas of the box that have a common thickness of paperboard anywhere the imprint appears. There are certain design restraints with Semi-Custom Printing but we are capable of printing designs with screens and detailed graphics. Contact us to speak with our talented packaging consultants and graphic designers about your desired packaging design.