custom printed
cups.|napkins.|bags.|food wraps.
CUSTOM PACKAGING FOR RESTAURANTS, CATERING, AND TAKE-OUT

"Popular businesses remind their customers of where to go when they want great food with packaging programs that are graphically memorable."
Request A Quote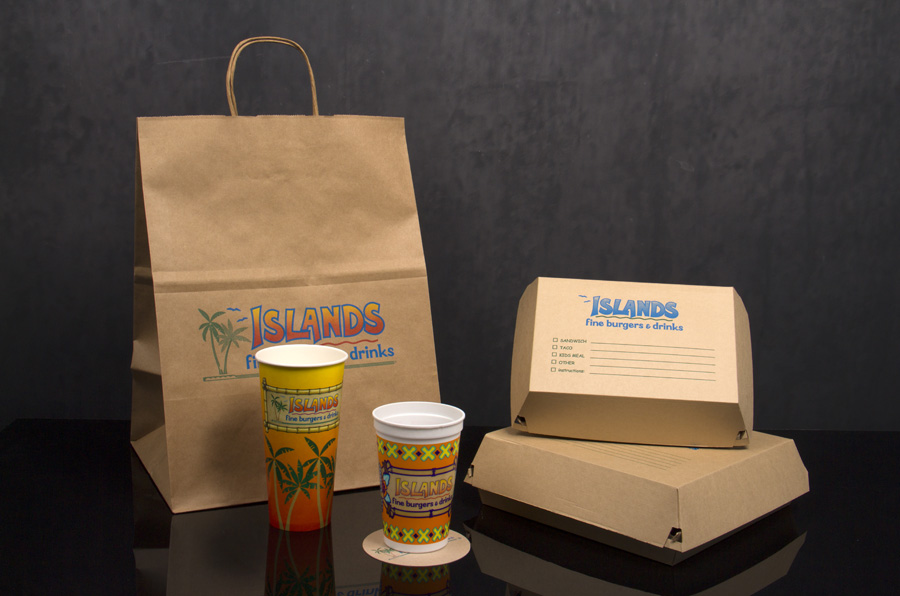 CUSTOM PRINTED RESTAURANT TAKE-OUT CUPS

Custom printed 22 ounce paper take-out cups imprinted 4 color process with matching paperboard cup coasters

Close

CUSTOM CLAMSHELL TAKE-OUT BOXES

8x6x2" Custom printed clam-shell boxes imprinted with 2 pantone colors.

Close

CUSTOM PRINTED PAPER SHOPPING BAGS

Custom printed paper take-out bags imprinted 4 colors with matching twisted paper handles

Close
View Other
Custom Packaging

Galleries
RESTAURANTS THAT PEOPLE NOTICE USE
PACKAGING THAT PEOPLE NOTICE®
Custom food service packaging can be a powerful marketing and branding tool for all types of restaurants and catering businesses. Custom printed packaging allows you to personalize the experience and provide a memorable first impression to new and potential customers. Subtle reminders that come from a restaurant's customized packaging, a chic to-go bag, or takeout box can spark a customer's positive memory of your food and service.
Every business desires to make a bold and memorable impression on their customers, and custom printed packaging is a great way for restaurants to achieve that. Whether your restaurant is fast food, fast-casual, or fine dining, there are many custom packaging options available to help you enhance the dining experience for your customers.
Our talented packaging consultants at Morgan Chaney are here to assist you in developing and ordering custom restaurant and catering packaging that takes your individual needs into consideration. Whether you need custom takeout bags, takeout food boxes, napkins, coasters, menu covers, or food service tissue paper we can help you achieve the perfect packaging solutions for your business.
Custom packaging created for restaurants and other food service businesses must be designed and engineered for food items, which requires product knowledge and insight. We have the experience and tools to provide you with safe and effective food packaging that fits your business's needs. If your packaging needs to be food-safe or FDA approved, we have the knowledge to source the right products and materials. We also have many eco-friendly and biodegradable custom packaging options for environmentally conscious businesses.
When you order your restaurant packaging through Morgan Chaney, we can coordinate your complete custom packaging program including all of your custom items. If you need assistance with your logo or design, we offer in-house design services that can help you visualize your end products and make the most of your packaging's print area.
We can manage your shipping and delivery logistics and manage your orders so that you can focus on running your business. Save time and stress by ordering your custom restaurant packaging from one company, Morgan Chaney, and enjoy the benefits of high-quality coordinated packaging.
COMPLETE CUSTOM RESTAURANT PACKAGING PROGRAMS INCLUDE:
Paper food carryout bags
Plastic food takeout bags
FDA approved basket liners
Sandwich and burger wraps
Waxed tissue sheets
Clamshell to-go containers
Menu covers
Check presenters
Catering trays and boxes
Napkins & napkin bands
Cups and coasters
Reusable tote bags